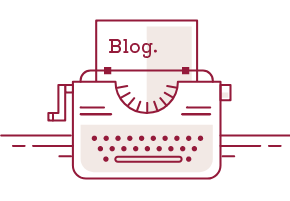 #RelationshipGoals: Connecting with a B2B Audience on Social Media
By Hannah Landers
Autodesk is big on Instagram. With 128k followers, the brand receives upward of 2k likes on each photo post and sometimes more than five times that many views on their video posts. But Autodesk isn't selling a trendy meal-replacement drink or celebrity-endorsed hair care product. It is a company that sells 3D design, engineering, and entertainment software to businesses — and their posts of incredibly lifelike 3D rendered cupcakes and enormous chocolate rabbits receive the kind of engagement that most B2B brands didn't think was possible.
Many B2B companies don't even have an Instagram account, believing there is no reason to be on social media platforms other than LinkedIn, which has a business focus. Outside of the buttoned-up LinkedIn, the social media landscape is dominated by B2C companies engaging in casual conversations, "roasting" their competitors on Twitter a la Wendy's and McDonald's, or answering customer queries via a shirtless mascot on YouTube as Old Spice did.
The informal, playful nature of B2C brands has set the tone for social platforms, making it difficult for B2B companies to see a place for themselves there: Less than half of B2B businesses consider it worth their time and money to come up with a social media strategy.
Yet this is a missed opportunity. B2B businesses need to look beyond the fact that they are selling to other businesses to see that their customers are people — and people are on social media. A lot. And in addition to the obvious motive of using social media for interactions between friends and family, people are also driven to these sites to seek out and share information. In fact, a study revealed that 75 percent of B2B decision makers found information on social media that influenced their buying process.
This nexus of connectivity and curiosity is where B2B businesses can thrive. Decision makers considering products like enterprise software or manufacturing equipment conduct research before purchasing, and they're already flocking to the web to find that information. And these decision makers often prefer to keep their quests for information digital — 59 percent of buyers think that sales reps are just pushing their own agendas.
As B2B decision makers are already online, actively seeking unbiased information to help them choose a particular product and a company, social media platforms like Twitter, Facebook, and Instagram can provide a forum for companies to provide that information in a way that is authentic and relationship-based.
The problems B2B companies face on social media often have nothing to do with the platforms themselves, but rather the strategies that B2B businesses take in entering the multifaceted landscape. Companies like Starbucks, Under Armour, and Wendy's continually reap in high engagement on social media, setting the standard for brand practices on Facebook, Twitter, and Instagram.
But B2B companies that attempt to mimic the practices of their B2C counterparts without coopting them to fit their own distinct customer base will often fail. Whereas Nike can post stylish photos and videos of athletes sporting their apparel on Instagram, a company that sells accounting software to enterprise businesses would have a harder time creating a visually appealing montage of their customers using the product. Additionally, the average B2C brand can use social media to promote sales, discounts, or new products, which would likely be a less successful strategy for B2B businesses, as the sales process is longer, requires more background research, involves more than one person, and is generally aimed at a more niche audience.
B2B brands need to take a different approach than B2C brands, thinking of their social media strategy as an extension of their complex relationships with their more informed audiences.
Customer service software vendor Salesforce has mastered this strategy. Salesforce has more than 400k followers on Twitter. Dotted with emojis and hashtags, each tweet is a reinforcement of the optimistic, lighthearted attitude of the company, and gives voice to the brand's story of empowering their customers to lead and innovate within their industries. Salesforce believes that their technology can empower business leaders to be "Trailblazers" and the optimistic aesthetic of their social media pages validates this story.
And Salesforce uses their Twitter account not just to cultivate these elements of their brand, but also to serve as a wellspring of knowledge for B2B decision makers, operating at the nexus of connectivity and curiosity. One tweet, for example, outlines the four fundamental elements for sustaining innovation over time, with small arrow emojis next to each element and a compelling photo of a bridge next to a gorgeous waterfall.
The tweet contains a link to a blog outlining these fundamentals in more detail, but the tweet on its own is successful both in reflecting Salesforce's brand story and providing their audience with the kind of business insight that reinforces their work as a thought leader in customer relations technology — building trust in and reliance on the brand in an unobtrusive and conversational manner suited both to Salesforce and to the nature of Twitter.
Let's return to Autodesk and their thriving Instagram account. Instagram is one of the hardest nuts to crack for B2B brands. The photo-centric platform is a no-brainer for B2C brands — and clothing and apparel brands especially, which top the list of most followed brands on the platform as of December 2017. Instead of taking the lead from a brand like Chanel, which was ranked at number 10 on the list of most followed brands at 23.5 million followers in December and whose feed is full of glamorous photos of models and celebrities sporting their clothing, make-up, and accessories, Autodesk uses the visual platform to show off the amazing and complicated tasks their clients are accomplishing — with the help of their software.
A video of a machine powered by Autodesk's software carving intricate designs on the front of a mandolin, for example, only fleetingly mentions Autodesk's product (the #Fusion360) in the caption. Instead the text — and the video content itself — focuses on Two Cherries Instruments and its incredible creative process. Visitors interested in learning more about engineering software who land on Autodesk's Instagram account aren't inundated with the ins and outs of the product. Rather, they experience what the company makes possible for their clients.
But even the savvier B2B brands can make a misstep, such as when Shopify tweeted out their version of the popular "If you don't love me at my…" meme, featuring their regular logo alongside one rendered in neon lighting. The comment section panned this attempt to leverage this popular meme. "No, memes are for the public not the corporate," wrote one user. "Offer me a job and I won't roast you for this," read another reply. "Would've worked better if you used the old/original logo," replied another user, in a tweet that further proved that Shopify didn't even understand the concept it was trying to cash in on.
Netflix's version of the meme, on the other hand, which featured two different screenshots from Disney's Hercules, was received much more positively. While Shopify's attempt to make their Twitter account inviting and relatable by using a popular meme, the responses show that B2B brands have to be careful when coopting social media trends.
But it isn't only multinational companies that can find success on Twitter, Facebook, and Instagram. Infusionsoft makes marketing software and has a brand story centered on supporting small businesses and the communities they serve. Like other successful B2B brands, much of Infusionsoft's content on Facebook features original content on helping their customers be successful. This includes topics like changing business regulations with accompanying text on a Facebook post that starts with "Data, data, data!" and a lock and key emoji, followed by text that directly addresses their audience, asking, "Is your business ready?"
Another blog on guerilla marketing was posted with the text, "Unlike big brands such as Nike or Target, the average small business has a tight marketing budget. Guerilla marketing is easy on the budget and includes finding creative ways to reach the public!" Infusionsoft's acknowledgement of their audience's needs and limitations creates a social media space where B2B decision makers are encouraged to gather to conduct their research and evaluate Infusionsoft's expertise in the industry — without being aggressively sold to.
Infusionsoft engages with their audience to develop authentic relationships based on knowledge sharing; the company hosts live web shows dedicated to imparting their marketing expertise to viewers and holds polls for users on topics like their preferred organizational techniques and communication tools. Rather than looking for ways to fit their personality and brand story into popular memes and other internet trends, Infusionsoft chooses content that aligns with their story and will best connect with their small business audience.
There's no one-size-fits-all social media strategy — especially for B2B brands. But looking to successful B2C techniques like pushing sales and discounts, attempting to capitalize on the newest meme, or firing off saucy missives aimed at competitors is misguided; the B2B social media audience might be composed of people, but those people have different needs, wants, and concerns than the consumer social media audience. In reaching out to their audiences in a way that is true to their brands and centers on their audiences, B2B companies can form meaningful connections through social media rather than simply broadcasting to a tuned-out audience.
Hannah Landers is an associate at Woden. Whatever your storytelling needs may be, Woden can help. Download our extensive guide on how to craft your organization's narrative, or send us an email at connect@wodenworks.com to discuss how we can help tell your story.