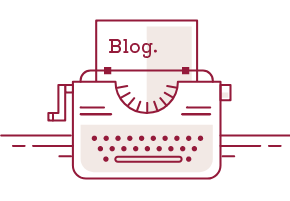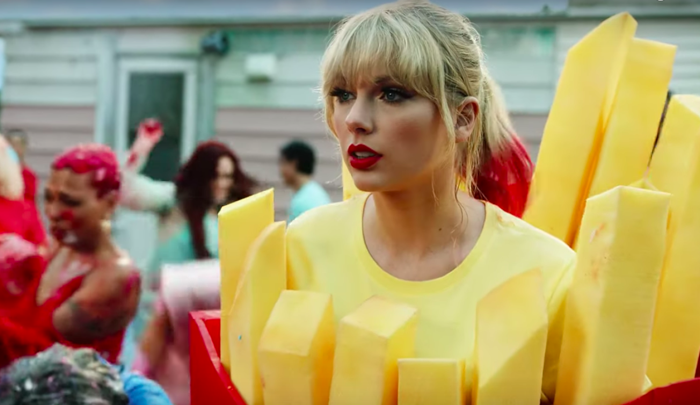 King of Burgers, Queen of Pop
By Kenly Craighill
In 2008, a doe-eyed, cowboy-boot-clad 18-year-old took to the CMT Music Awards stage. Her unmistakable permed curls, paired with a cutesy-country twang and puppy-love lyrics, made her the image of a prototypical country-pop star. The seismic force on the stage, however, would soon transcend those country roots: Taylor Swift.
Swift's mostly-teen following exploded, whimsically singing along to the thought of "sneakin' out late tappin' on your window." Swift's stories of fairytale love and fiery heartbreak floated on guitar, banjo, and fiddle strings, drawing listeners in to an emotional journey that reflected their own narratives. Her willingness to disclose the fears, failures, crushes and conflicts of Taylor Swift—not just the musician, but the person—defined a relationship with fans that has surpassed music alone.
Through Instagram live updates, Secret Sessions, and self-wrapped fan gifts, Swift perpetuated this sense of honesty and vulnerability, and cemented deeply personal connections with fans. Swift embodied the credo that "it's not enough to write hits that get played on the radio, as an artist, you need to offer something much more personal."
Yet, contemporary music fans don't exclusively associate Swift with her country origins. After early success, she ditched her corkscrew 'do for a pin-straight bob, and morphed into someone completely different—at least superficially. Her rosy naiveté and country underdog charm were replaced by seething revenge melodies, and Swift evolved to her current status as an American pop princess.
Pundits met Swift's evolution from "the girl next door" with uncertainty, but hindsight has proven wrong "everyone, in and out of the music industry," who believed Swift's pop dreams were "naïve and overly optimistic." The skeptics, including her own record label, missed something crucial about Taylor Swift: her story was never about the genre that pedestaled her successful career. Swift's fans were loyal to the openness, honesty, and authenticity of her story—one that remained consistent even when her banjo-ballads were swapped for the synthy repetition of "Look What You Made Me Do."
Taylor Swift's investment in a steadfast story, and her faith in fans to believe it, has paid off. After all, staying the same isn't what makes a person—or a brand—successful. It's constantly evolving alongside audience tastes to remain relevant, while staying true to a fundamental story, that does.
Although he's not pop royalty, Burger King's mascot wears a different crown that symbolizes an American classic: the Whopper. The fast food chain has offered flame-grilled beef patties since its founding in 1953, and its flagship sandwich almost as long. When customers approach a drive-thru window with the Whopper in mind, they do so with expectations rooted in decades of Burger King's infallible adherence to the standards of American fast food and repetition of its message—until now.
When the creators of "America's Favorite Burger" announced that it would offer a Whopper with a meatless replacement of its flame-grilled core, skeptics rolled their eyes at the prospect of yet another ineffective vegetarian gimmick. But, the decision to include the Impossible Whopper on Burger King menus across the country wasn't just a PR stunt: when the faux burger was tested at St. Louis locations, customer traffic outperformed national averages by 18.5 percent. According to customers, the success of the plant-based burger came down to one vital factor: "it really does taste like beef." It may not have come from a cow, but customers were still satisfied by the same meaty tenderness of their beloved burger, thanks to its "essential 'Whopperness.'"
Cynics cried Burger King was straying from its roots, and drifting away from the meat-loving customer base that's kept it the world's second-largest burger chain for so long. But, Burger King wasn't straying at all: the flame-grilled franchise has always put creativity, individuality, and risk-taking at the forefront of its narrative, as long as it delivers on the tastes craved by its loyal consumers.
After all, this is the brand who has long encouraged diners to "have it your way" (now "be your way"). Its commitment to this approach explains why it may be the only burger chain that could pull off this type of evolution.
Most hamburger chains embrace the assembly-line approach pioneered by McDonald's. This production philosophy ensures consistency across all stores, but limits flexibility. Kitchens and stores are designed to cook specific menu items repeatedly—but little else. The Burger King kitchen design is superficially less efficient, but offers flexibility for additional menu items and customization—how else could customers have it their way?
As early as the mid-1970s, Burger King was taking chances other fast food chains were not. The brand was lagging behind leader McDonald's, and facing pressure from a rapidly-growing Wendy's. Executive Donald Smith made a bold decision: to develop a Specialty Sandwich line. This product expansion was only made possible by the commitment to customization and customer preference already designed into the brand's kitchens.
This 1978 move was one of the first-ever attempts by a fast-food chain to target a niche demographic, in this case adults between 18 and 34, deemed most likely to spend more on a higher-quality sandwich. Like its modern meatless descendent, the Specialty Sandwich line effectively differentiated Burger King, captured new audiences, and represented a willingness to tweak the burgers, fries, and milkshake model that propelled the brand's early success. The risk of deploying the line was significant: implementation would add approximately eight seconds per order to production time, and cost about $39 million in lost productivity. Burger King went ahead with its plan, and reaped the benefits: sales increased by 15 percent.
Customer adoption made sense, as the brand had invested in a message less beholden to specific burger offerings, and instead committed to meeting customer preferences by "offer[ing] reasonably priced quality food, served quickly, in attractive, clean surroundings" Forty years later, one of these early Specialty Sandwiches lives on: the Original Chicken Sandwich. It's that legacy that helped give Burger King the courage to endeavor into the Impossible.
Burger King's commitment to new product lines and experiences not only made people more willing to stray into the unexplored territory of vegetarian fast food, it's also increased the amount they were willing to spend for it: checks including the plant-based Whopper hover around 10 dollars, a 3 dollar increase over the average Burger King order in 2018.
Critics of Burger King's venture into vegetarian cuisine saw a gimmicky product that tried to capitalize on the trend of meat replacements. And, had a similar product been introduced by McDonalds, Wendy's, or another competitors, that may have been true. What they underestimated was the long-established relationship Burger King had already built with its following, and that that relationship was not based on burgers, but on a willingness to meet customer preference in fast food that would be anathema to other brands.
From its initial investments in kitchen design, to evolving alongside customer tastes in 1978, Burger King has committed decades to letting customers have it their way. It's that narrative that customers are loyal to, not the beef, and it's driven a 10 percent sales increase, the strongest growth in five years. Burger King Chief Marketing Officer, Fernando Machado, (recently named the most innovative CMO in the world by Business Insider), notes:
"Communicate to the people… they are part of the journey from the genesis of the idea in the inside to the launch. If you don't do that, you risk coming with a product or communication that will be disconnected to people's expectations and desires."
Brands can not, and should not, remain stagnant when their customers are always doing the opposite. Taylor Swift could have remained a country queen, at the cost of sacrificing millions of new fans. Burger King could have rested on its flame-grilled laurels, and bypassed millions of new meatless consumers. Both were savvy enough to invest in a connection with their fans that transcended product, and provided a platform for growth behind their historical strength.
The risk of growing into new opportunities is real, but without embracing it, pop and burger royalty alike would have been dethroned. When a brand is ready to win new audiences, transformation consistent with who they are will keep the core audience engaged, and earn new fans through products they're ready to love.
Kenly is an associate at Woden. Want to stay connected? Add Kenly on LinkedIn, read our extensive guide on how to craft your organization's narrative, or send us an email at connect@wodenworks.com to discuss whatever your storytelling needs may be.